Leadership Play Date
Want to be a Game Changer for your organization?
We've Got Just The Strategy.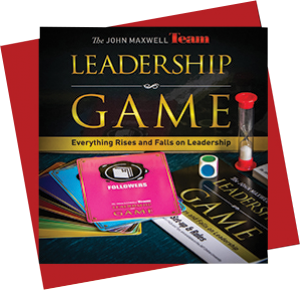 Schedule Synergy Solutions Partners to Host
The John Maxwell Team – The Leadership Game
The John Maxwell Team Leadership Game is a comprehensive learning experience based on the teachings of John C. Maxwell. The game will help YOU increase your leadership value with your staff or team. In just about two hours our certified John Maxwell Trainer can help leaders uncover gaps and areas for improvement within their leadership teams.
Your paid PRO Package booking with Synergy Solutions Partners includes a pre-event conference call, 1/2 day on-site event facilitation, 1 Maxwell Leadership Assessment and Report, on-site debriefing following the game session and a special gift. Travel included when booked 21 days in advance.
Available days are getting limited, book today!
Join other CEOs, fast-food restaurant managers, realtors, network marketers, store managers, bankers, teachers, church leaders, and alike who want to improve their organizational leadership skills because "Everything Rises and Falls on Leadership"
Now Let's Play!
NANCY KING
SENIOR SALES DIRECTOR
MARY KAY COSMETICS
"I had the privilege of playing the Leadership game twice in the last year. Two things learned are that we are leaders in every aspect of life. Others are always watching. The other is that what others see in us may not be what we see. I felt inspired, encouraged and empowered to be more."
RICARDO BENAVIDES
BROKER AND OWNER
BIG REALTY
"Going into this game I did not know what to expect, but as it turns out I was super impressed with it and can't wait to play it again. This game helped our team recognize our personal strengths and weaknesses, but most importantly it helped us get to know each other on a higher personal level. We even had some of our members walk out of the game feeling like they needed to invest more in their education and themselves to grow as individuals. Overall, I would say it was a great game!"
Leadership Game
participant
"This is a great leadership tool which helps you identify your team's strong points and where you can use them to make your team stronger. It also teaches you to identify improvements, so you can reach higher. All this, while having fun!"